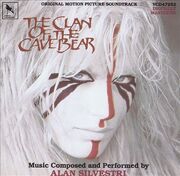 The music score of the The Clan of the Cave Bear was created by Alan Silvestri. The song Heroine by Sinéad O'Connor was also used.
Main Title
The Bear Skull
Ayla Finds the Cave
Ayla Alone
The Glacier Trek
The Clan Finds Ayla
Kreb on the Mountain
The Counting
Kreb Gives Ayla Totem
Wolf Attack
The Vision
Iza's Death
Caught
The Clan
Ayla Hugs Kreb
The Rape
End Title
Reception
Edit
Critic Jason Ankeny wrote about the film score:
Among the myriad flaws of the much maligned Clan of the Cave Bear is its dreadful, 
ill-fitting score by Alan Silvestri. Though the film is set in the Cro-Magnon era,
Silvestri eschews organic instrumentation in favor of Synclavier, and while the 
violin was as much an unknown concept to Ice Age dwellers as the synthesizer, the 
overall effect is still an enormous distraction. Equally problematic is Silvestri's
atypically low-key, light approach. There's nothing here that captures the brutality
and violence that we know defined the existence of early humankind. It's almost as
if the composer wrote The Clan of the Cave Bear without screening the film or even
knowing its subject matter. One is hard-pressed to think of another score so
completely at odds with its motion picture accompaniment.[1]

References
Edit
↑ Jason Ankeny, "Review by Jason Ankeny", allmusic.com.